Gypsy tarot card: Gift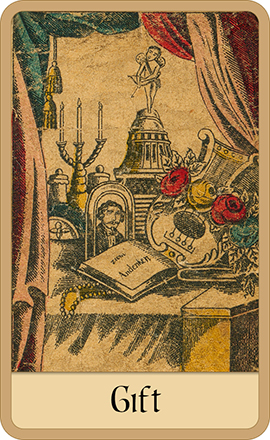 Sacrifice, donation, affection, mercy. Happy turning point. In a general sense, this card stands for our abilities and talents. Also for tenderness. Contributions and rewards. Act of giving and receiving. Inherit something valuable. This card represents a generous person.
Something good is coming your way. It can be great or small, but it's definitely something special. A kind word, heritage, or a message you may have been waiting for. You want to tell someone something they'll love. But you're still a little shy.
Pay more attention to your fellow humans, you will get much good back. Offer someone something.