Gypsy tarot card: Happiness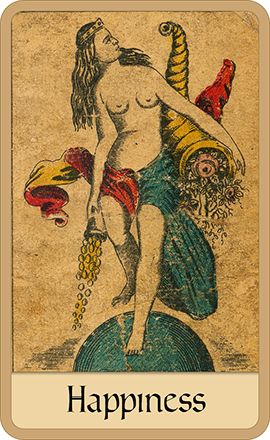 A lucky streak. Coincidence. Draw the big lot. Right now, you're the winner. This can refer both to inner wealth and to literal wealth. Holding the trump cards.
Either this card tells you that you will soon receive your reward, or it advises you to take the first step to make your dreams come true. Assets, an optimistic outlook, a successful company. The fulfillment of your plans. Once you have drawn this card, you can be sure that you are on the right track. There will be no obstacles.
Harmony as a theme of life. Happiness is a very positive card. Your dreams come true.